Bar to Psi
Why use BAR TO PSI online calculator?
Mycalcu helps you evaluate the units of measurements online, to remove any error while doing the conversions manually. It neither requires any critical thinking nor any familiarity with symbols.
Bar Conversion
Psi
Pascal
Kilopascal
Megapascal
Standard Atmosphere
Torr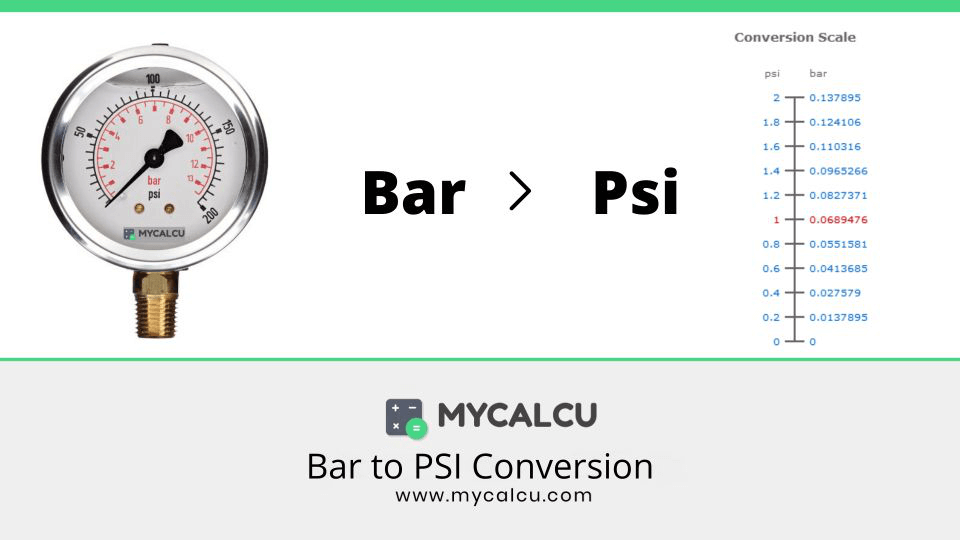 How to Convert Bar to Psi using MYCALCU?
Here is the equation that shows ''how many Bars are in a Psi
PSI = BAR × 14.503789
The fastest and easiest way to convert BAR to PSI is using this formula
PSI = BAR × 14.5037890
Example
If we want to convert 20 Bar into Psi, we multiply it by 14.503789 to get the result
20 BAR = 20 × 14.503789= 290.075782PSI
WHAT IS THE REALTION BETWEEN BAR AND PSI?
Both values are units of pressure.
1 Psi is equal to 0.0689475729 bar
| bar | psi |
| --- | --- |
| 1 bar | 14.504 psi |
| 2 bar | 29.008 psi |
| 3 bar | 43.512 psi |
| 4 bar | 58.016 psi |
| 5 bar | 72.52 psi |
| 6 bar | 87.024 psi |
| 7 bar | 101.528 psi |
| 8 bar | 116.032 psi |
| 9 bar | 130.536 psi |
| 10 bar | 145.04 psi |
| 11 bar | 159.544 psi |
| 12 bar | 174.048 psi |
| 13 bar | 188.552 psi |
| 14 bar | 203.056 psi |
| 15 bar | 217.56 psi |
| 16 bar | 232.064 psi |
| 17 bar | 246.568 psi |
| 18 bar | 261.072 psi |
| 19 bar | 275.576 psi |
| 20 bar | 290.08 psi |
| 21 bar | 304.584 psi |
| 22 bar | 319.088 psi |
| 23 bar | 333.592 psi |
| 24 bar | 348.096 psi |
| 25 bar | 362.6 psi |
| 26 bar | 377.104 psi |
| 27 bar | 391.608 psi |
| 28 bar | 406.112 psi |
| 29 bar | 420.616 psi |
| 30 bar | 435.12 psi |
| 31 bar | 449.624 psi |
| 32 bar | 464.128 psi |
| 33 bar | 478.632 psi |
| 34 bar | 493.136 psi |
| 35 bar | 507.64 psi |
| 36 bar | 522.144 psi |
| 37 bar | 536.648 psi |
| 38 bar | 551.152 psi |
| 39 bar | 565.656 psi |
| 40 bar | 580.16 psi |
| 41 bar | 594.664 psi |
| 42 bar | 609.168 psi |
| 43 bar | 623.672 psi |
| 44 bar | 638.176 psi |
| 45 bar | 652.68 psi |
| 46 bar | 667.184 psi |
| 47 bar | 681.688 psi |
| 48 bar | 696.192 psi |
| 49 bar | 710.696 psi |
| 50 bar | 725.2 psi |
| 51 bar | 739.704 psi |
| 52 bar | 754.208 psi |
| 53 bar | 768.712 psi |
| 54 bar | 783.216 psi |
| 55 bar | 797.72 psi |
| 56 bar | 812.224 psi |
| 57 bar | 826.728 psi |
| 58 bar | 841.232 psi |
| 59 bar | 855.736 psi |
| 60 bar | 870.24 psi |
| 61 bar | 884.744 psi |
| 62 bar | 899.248 psi |
| 63 bar | 913.752 psi |
| 64 bar | 928.256 psi |
| 65 bar | 942.76 psi |
| 66 bar | 957.264 psi |
| 67 bar | 971.768 psi |
| 68 bar | 986.272 psi |
| 69 bar | 1000.776 psi |
| 70 bar | 1015.28 psi |
| 71 bar | 1029.784 psi |
| 72 bar | 1044.288 psi |
| 73 bar | 1058.792 psi |
| 74 bar | 1073.296 psi |
| 75 bar | 1087.8 psi |
| 76 bar | 1102.304 psi |
| 77 bar | 1116.808 psi |
| 78 bar | 1131.312 psi |
| 79 bar | 1145.816 psi |
| 80 bar | 1160.32 psi |
| 81 bar | 1174.824 psi |
| 82 bar | 1189.328 psi |
| 83 bar | 1203.832 psi |
| 84 bar | 1218.336 psi |
| 85 bar | 1232.84 psi |
| 86 bar | 1247.344 psi |
| 87 bar | 1261.848 psi |
| 88 bar | 1276.352 psi |
| 89 bar | 1290.856 psi |
| 90 bar | 1305.36 psi |
| 91 bar | 1319.864 psi |
| 92 bar | 1334.368 psi |
| 93 bar | 1348.872 psi |
| 94 bar | 1363.376 psi |
| 95 bar | 1377.88 psi |
| 96 bar | 1392.384 psi |
| 97 bar | 1406.888 psi |
| 98 bar | 1421.392 psi |
| 99 bar | 1435.896 psi |
| 100 bar | 1450.4 psi |
1 bar to psi

2 bar to psi

3 bar to psi

4 bar to psi

5 bar to psi

10 bar to psi

20 bar to psi

50 bar to psi

70 bar to psi

100 bar to psi

200 bar to psi

400 bar to psi

500 bar to psi

1000 bar to psi

2000 bar to psi

3000 bar to psi