Feet to CM
Why use the Feet to Cm calculator?
Mycalcu's feet to cm calculator provides accurate and instant solutions to your feet to centimeters conversion calculations. In other words, no manual calculation, or difficulties, or errors while calculating length conversions anymore since this calculator quickly does the math for you and all you need to do is to input the values and simply click the calculate button to get the accurate answer to your conversion immediately. 
Conversion to Other Lengths
Centimeters
Inches
Meters
Miles
Yards
Kilometers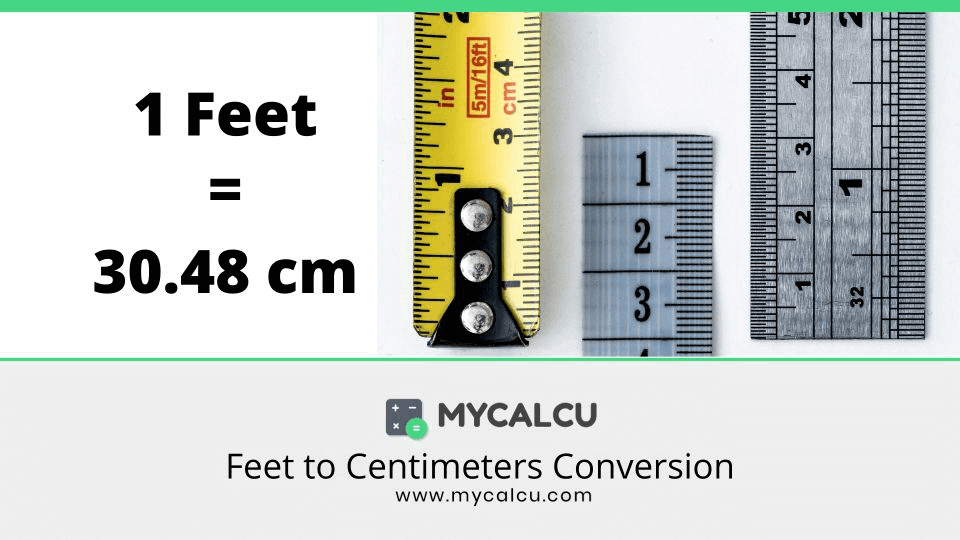 How does this conversion calculator work?
The working mechanism of this length unit converter is very simple after you entered the values, this calculator uses the below formula to compute and provide an accurate and precise answer instantly and effortlessly for you.
1 ft = 1 * 30.48 cm
How many centimeters are there in one foot?
According to the formula, there are 30.48 centimeters in 1 foot. Therefore, you can easily calculate any other value of feet in centimeters by simply multiplying the value of feet by 30.48 to get it converted into cm.
For instance, how many centimeters are there in 10 feet?
Using the above formula, 1 ft = 30.48 cm, therefore, 10 ft = 10 * 30.48 = 304.8 cm. Thus there are 304.8 centimeters in 10 feet.
How to use this conversion calculator?
Simply enter the required values in the given fields and click the calculate button to get the solution instantly.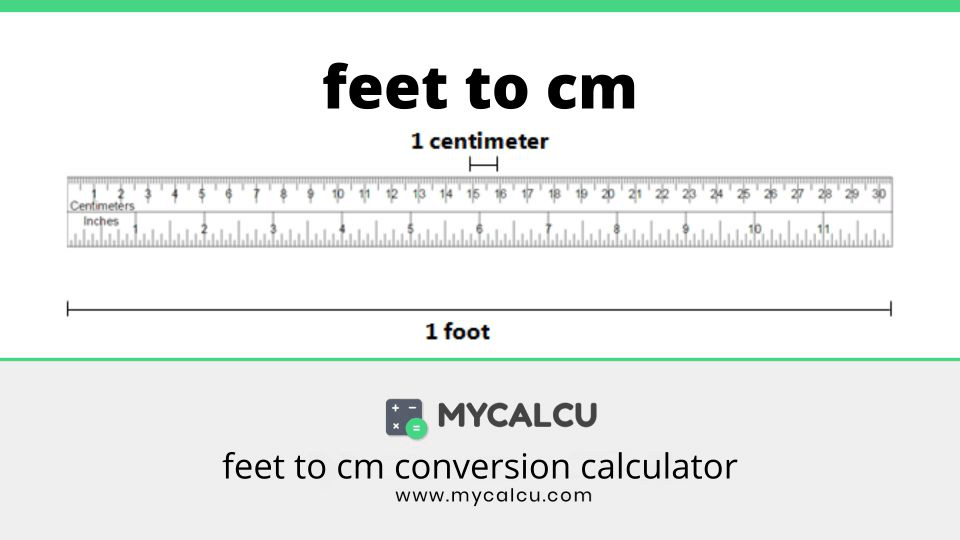 | feet | cm |
| --- | --- |
| 1 feet | 30.48 cm |
| 2 feet | 60.96 cm |
| 3 feet | 91.44 cm |
| 4 feet | 121.92 cm |
| 5 feet | 152.4 cm |
| 6 feet | 182.88 cm |
| 7 feet | 213.36 cm |
| 8 feet | 243.84 cm |
| 9 feet | 274.32 cm |
| 10 feet | 304.8 cm |
| 11 feet | 335.28 cm |
| 12 feet | 365.76 cm |
| 13 feet | 396.24 cm |
| 14 feet | 426.72 cm |
| 15 feet | 457.2 cm |
| 16 feet | 487.68 cm |
| 17 feet | 518.16 cm |
| 18 feet | 548.64 cm |
| 19 feet | 579.12 cm |
| 20 feet | 609.6 cm |
| 21 feet | 640.08 cm |
| 22 feet | 670.56 cm |
| 23 feet | 701.04 cm |
| 24 feet | 731.52 cm |
| 25 feet | 762 cm |
| 26 feet | 792.48 cm |
| 27 feet | 822.96 cm |
| 28 feet | 853.44 cm |
| 29 feet | 883.92 cm |
| 30 feet | 914.4 cm |
| 31 feet | 944.88 cm |
| 32 feet | 975.36 cm |
| 33 feet | 1005.84 cm |
| 34 feet | 1036.32 cm |
| 35 feet | 1066.8 cm |
| 36 feet | 1097.28 cm |
| 37 feet | 1127.76 cm |
| 38 feet | 1158.24 cm |
| 39 feet | 1188.72 cm |
| 40 feet | 1219.2 cm |
| 41 feet | 1249.68 cm |
| 42 feet | 1280.16 cm |
| 43 feet | 1310.64 cm |
| 44 feet | 1341.12 cm |
| 45 feet | 1371.6 cm |
| 46 feet | 1402.08 cm |
| 47 feet | 1432.56 cm |
| 48 feet | 1463.04 cm |
| 49 feet | 1493.52 cm |
| 50 feet | 1524 cm |
| 51 feet | 1554.48 cm |
| 52 feet | 1584.96 cm |
| 53 feet | 1615.44 cm |
| 54 feet | 1645.92 cm |
| 55 feet | 1676.4 cm |
| 56 feet | 1706.88 cm |
| 57 feet | 1737.36 cm |
| 58 feet | 1767.84 cm |
| 59 feet | 1798.32 cm |
| 60 feet | 1828.8 cm |
| 61 feet | 1859.28 cm |
| 62 feet | 1889.76 cm |
| 63 feet | 1920.24 cm |
| 64 feet | 1950.72 cm |
| 65 feet | 1981.2 cm |
| 66 feet | 2011.68 cm |
| 67 feet | 2042.16 cm |
| 68 feet | 2072.64 cm |
| 69 feet | 2103.12 cm |
| 70 feet | 2133.6 cm |
| 71 feet | 2164.08 cm |
| 72 feet | 2194.56 cm |
| 73 feet | 2225.04 cm |
| 74 feet | 2255.52 cm |
| 75 feet | 2286 cm |
| 76 feet | 2316.48 cm |
| 77 feet | 2346.96 cm |
| 78 feet | 2377.44 cm |
| 79 feet | 2407.92 cm |
| 80 feet | 2438.4 cm |
| 81 feet | 2468.88 cm |
| 82 feet | 2499.36 cm |
| 83 feet | 2529.84 cm |
| 84 feet | 2560.32 cm |
| 85 feet | 2590.8 cm |
| 86 feet | 2621.28 cm |
| 87 feet | 2651.76 cm |
| 88 feet | 2682.24 cm |
| 89 feet | 2712.72 cm |
| 90 feet | 2743.2 cm |
| 91 feet | 2773.68 cm |
| 92 feet | 2804.16 cm |
| 93 feet | 2834.64 cm |
| 94 feet | 2865.12 cm |
| 95 feet | 2895.6 cm |
| 96 feet | 2926.08 cm |
| 97 feet | 2956.56 cm |
| 98 feet | 2987.04 cm |
| 99 feet | 3017.52 cm |
| 100 feet | 3048 cm |
1 feet to cm

2 feet to cm

3 feet to cm

4 feet to cm

5 feet to cm

10 feet to cm

20 feet to cm

50 feet to cm

100 feet to cm

100 feet to cm

1000 feet to cm

2000 feet to cm

5000 feet to cm

10000 feet to cm