MM to M
Why use the Mm to M conversion calculator?
Mycalcu's millimeters to meters calculator assists you to convert mm into m precisely and accurately. This calculator further allows you to carry out any conversion of millimeters into meters and vice versa instantly. Mm to m calculator guarantees error-free calculation and conversion of millimeters into meters, therefore, by using this converter you can avoid any error in your length unit conversions.
Conversion to Other Lengths
Meters
Feet
Inches
Centimeters
Yards
Kilometers
Miles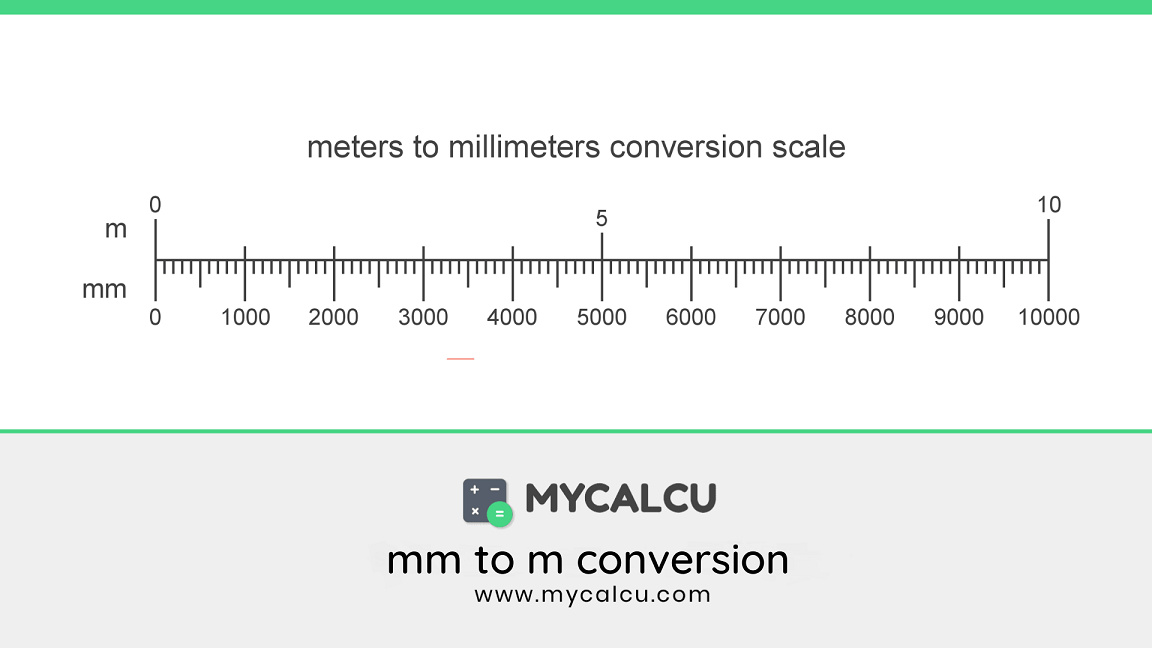 How does this calculator work?
It is very simple. This length converter converts mm into m using the given below formula.
1 mm = 1 / 1000 m, which means there are 0.001 meters in one millimeter.
Let's look into another example for a better understanding of mm into m conversion.
How many meters are there in 100 millimeters? or 100 mm to m will be?
As per the above-mentioned formula, it becomes 100 mm = 100 / 1000 = 0.1 m.
Thus, there are 0.1 meters in 100 millimeters.
How to use this calculator?
Enter your desired values in the corresponding empty fields and click the calculate button to get your answer instantly.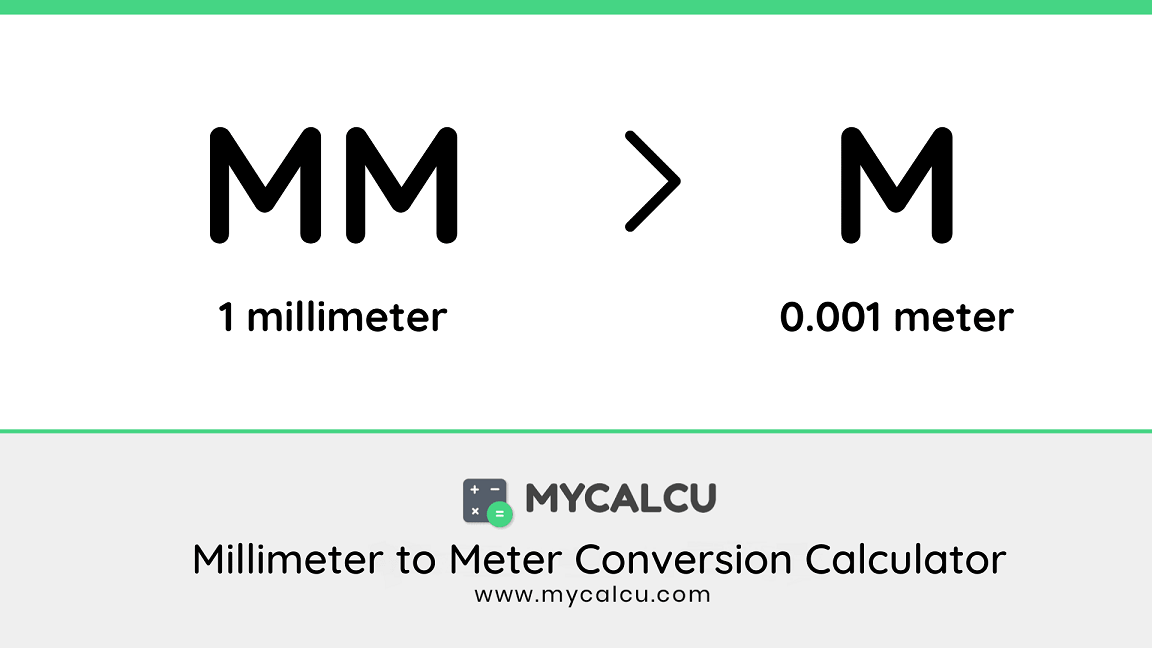 | mm | m |
| --- | --- |
| 1 mm | 0.001 m |
| 2 mm | 0.002 m |
| 3 mm | 0.003 m |
| 4 mm | 0.004 m |
| 5 mm | 0.005 m |
| 6 mm | 0.006 m |
| 7 mm | 0.007 m |
| 8 mm | 0.008 m |
| 9 mm | 0.009 m |
| 10 mm | 0.01 m |
| 11 mm | 0.011 m |
| 12 mm | 0.012 m |
| 13 mm | 0.013 m |
| 14 mm | 0.014 m |
| 15 mm | 0.015 m |
| 16 mm | 0.016 m |
| 17 mm | 0.017 m |
| 18 mm | 0.018 m |
| 19 mm | 0.019 m |
| 20 mm | 0.02 m |
| 21 mm | 0.021 m |
| 22 mm | 0.022 m |
| 23 mm | 0.023 m |
| 24 mm | 0.024 m |
| 25 mm | 0.025 m |
| 26 mm | 0.026 m |
| 27 mm | 0.027 m |
| 28 mm | 0.028 m |
| 29 mm | 0.029 m |
| 30 mm | 0.03 m |
| 31 mm | 0.031 m |
| 32 mm | 0.032 m |
| 33 mm | 0.033 m |
| 34 mm | 0.034 m |
| 35 mm | 0.035 m |
| 36 mm | 0.036 m |
| 37 mm | 0.037 m |
| 38 mm | 0.038 m |
| 39 mm | 0.039 m |
| 40 mm | 0.04 m |
| 41 mm | 0.041 m |
| 42 mm | 0.042 m |
| 43 mm | 0.043 m |
| 44 mm | 0.044 m |
| 45 mm | 0.045 m |
| 46 mm | 0.046 m |
| 47 mm | 0.047 m |
| 48 mm | 0.048 m |
| 49 mm | 0.049 m |
| 50 mm | 0.05 m |
| 51 mm | 0.051 m |
| 52 mm | 0.052 m |
| 53 mm | 0.053 m |
| 54 mm | 0.054 m |
| 55 mm | 0.055 m |
| 56 mm | 0.056 m |
| 57 mm | 0.057 m |
| 58 mm | 0.058 m |
| 59 mm | 0.059 m |
| 60 mm | 0.06 m |
| 61 mm | 0.061 m |
| 62 mm | 0.062 m |
| 63 mm | 0.063 m |
| 64 mm | 0.064 m |
| 65 mm | 0.065 m |
| 66 mm | 0.066 m |
| 67 mm | 0.067 m |
| 68 mm | 0.068 m |
| 69 mm | 0.069 m |
| 70 mm | 0.07 m |
| 71 mm | 0.071 m |
| 72 mm | 0.072 m |
| 73 mm | 0.073 m |
| 74 mm | 0.074 m |
| 75 mm | 0.075 m |
| 76 mm | 0.076 m |
| 77 mm | 0.077 m |
| 78 mm | 0.078 m |
| 79 mm | 0.079 m |
| 80 mm | 0.08 m |
| 81 mm | 0.081 m |
| 82 mm | 0.082 m |
| 83 mm | 0.083 m |
| 84 mm | 0.084 m |
| 85 mm | 0.085 m |
| 86 mm | 0.086 m |
| 87 mm | 0.087 m |
| 88 mm | 0.088 m |
| 89 mm | 0.089 m |
| 90 mm | 0.09 m |
| 91 mm | 0.091 m |
| 92 mm | 0.092 m |
| 93 mm | 0.093 m |
| 94 mm | 0.094 m |
| 95 mm | 0.095 m |
| 96 mm | 0.096 m |
| 97 mm | 0.097 m |
| 98 mm | 0.098 m |
| 99 mm | 0.099 m |
| 100 mm | 0.1 m |
1 mm to m

2 mm to m

3 mm to m

4 mm to m

5 mm to m

10 mm to m

20 mm to m

50 mm to m

100 mm to m