Pounds to Grams
Why use pounds to grams conversion calculator?
Mycalcu's pounds to grams calculator provides a handy, quick, and uncomplicated conversion facility of lbs into g and vice versa for the students. This is a totally free calculator that requires no logins restriction to perform conversions. In addition, there is no limit for performing conversions. Just put the values and get the answer.
Pounds Conversion
Grams
Metric Tons
Tons
Ounces
Kilograms
Milligrams
Micrograms
Stones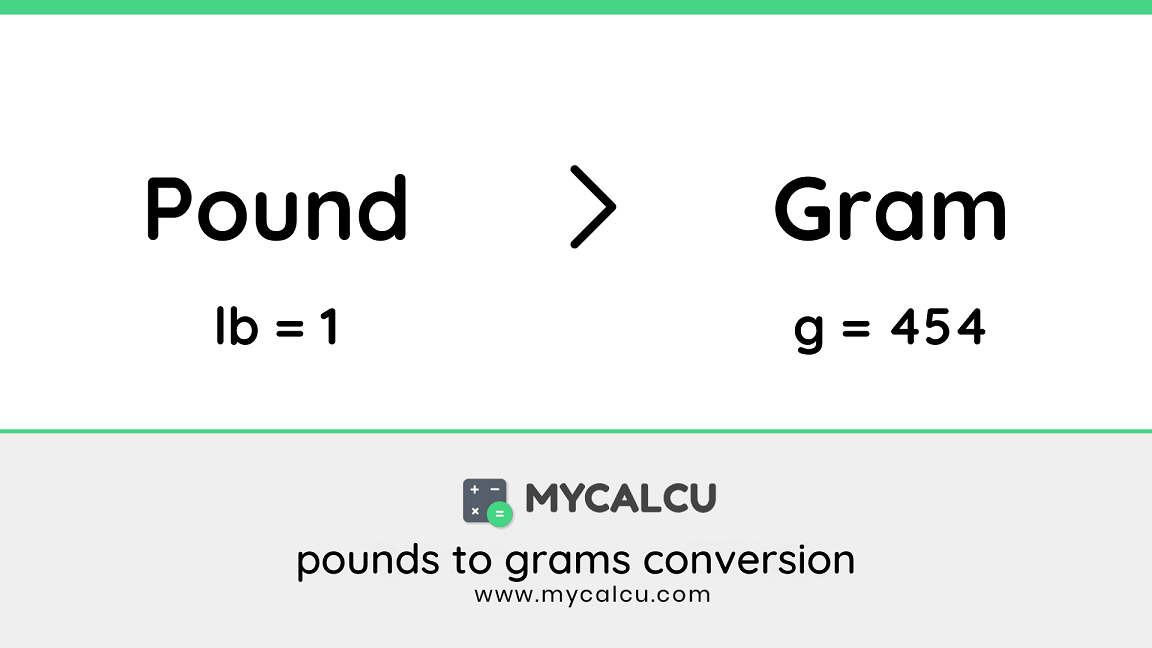 Furthermore, this conversion calculator allows you to perform the opposite conversion as well. You can easily convert lbs into grams and grams into pounds instantly and precisely. 
How does the lb to g calculator work?
The working mechanism of this converter is easy, it follows a below simple formula to compute the answer for you.
1 Lb  = g x 453.592
Therefore, there are 453.592 grams in one pound. Thus, in order to convert any value of pounds into grams, you can simply multiply the value of pounds by 453.592 to get it converted into grams.
How to use this calculator?
Simply enter your values in the corresponding empty fields and click the calculate button.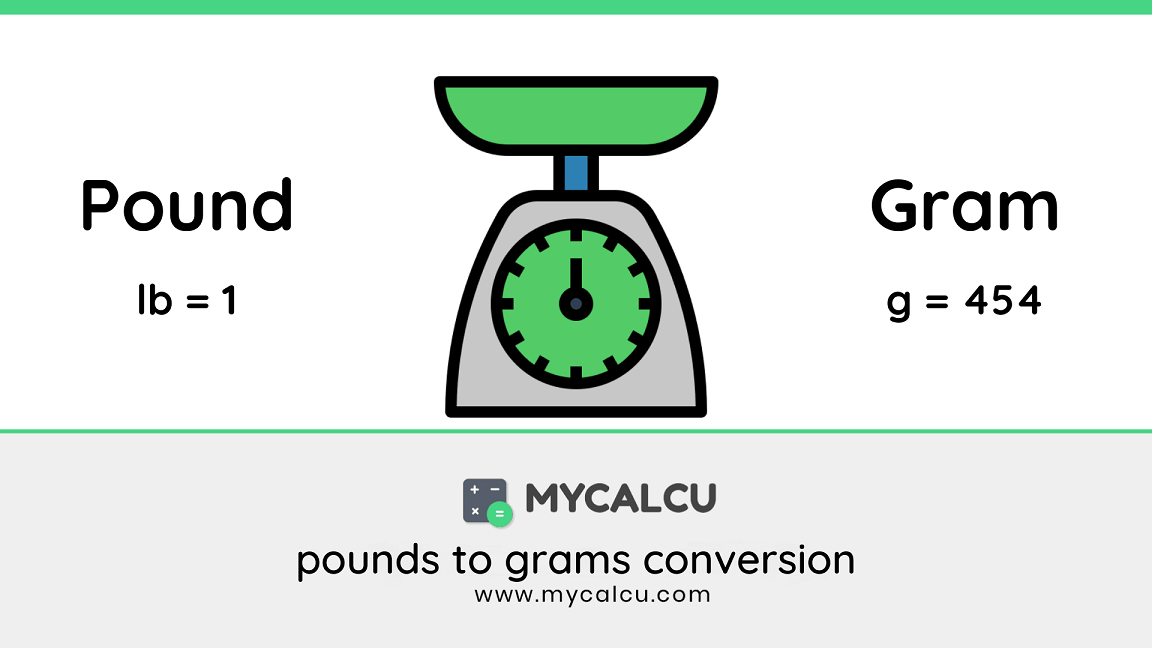 | pounds | g |
| --- | --- |
| 1 pounds | 454 g |
| 2 pounds | 908 g |
| 3 pounds | 1362 g |
| 4 pounds | 1816 g |
| 5 pounds | 2270 g |
| 6 pounds | 2724 g |
| 7 pounds | 3178 g |
| 8 pounds | 3632 g |
| 9 pounds | 4086 g |
| 10 pounds | 4540 g |
| 11 pounds | 4994 g |
| 12 pounds | 5448 g |
| 13 pounds | 5902 g |
| 14 pounds | 6356 g |
| 15 pounds | 6810 g |
| 16 pounds | 7264 g |
| 17 pounds | 7718 g |
| 18 pounds | 8172 g |
| 19 pounds | 8626 g |
| 20 pounds | 9080 g |
| 21 pounds | 9534 g |
| 22 pounds | 9988 g |
| 23 pounds | 10442 g |
| 24 pounds | 10896 g |
| 25 pounds | 11350 g |
| 26 pounds | 11804 g |
| 27 pounds | 12258 g |
| 28 pounds | 12712 g |
| 29 pounds | 13166 g |
| 30 pounds | 13620 g |
| 31 pounds | 14074 g |
| 32 pounds | 14528 g |
| 33 pounds | 14982 g |
| 34 pounds | 15436 g |
| 35 pounds | 15890 g |
| 36 pounds | 16344 g |
| 37 pounds | 16798 g |
| 38 pounds | 17252 g |
| 39 pounds | 17706 g |
| 40 pounds | 18160 g |
| 41 pounds | 18614 g |
| 42 pounds | 19068 g |
| 43 pounds | 19522 g |
| 44 pounds | 19976 g |
| 45 pounds | 20430 g |
| 46 pounds | 20884 g |
| 47 pounds | 21338 g |
| 48 pounds | 21792 g |
| 49 pounds | 22246 g |
| 50 pounds | 22700 g |
| 51 pounds | 23154 g |
| 52 pounds | 23608 g |
| 53 pounds | 24062 g |
| 54 pounds | 24516 g |
| 55 pounds | 24970 g |
| 56 pounds | 25424 g |
| 57 pounds | 25878 g |
| 58 pounds | 26332 g |
| 59 pounds | 26786 g |
| 60 pounds | 27240 g |
| 61 pounds | 27694 g |
| 62 pounds | 28148 g |
| 63 pounds | 28602 g |
| 64 pounds | 29056 g |
| 65 pounds | 29510 g |
| 66 pounds | 29964 g |
| 67 pounds | 30418 g |
| 68 pounds | 30872 g |
| 69 pounds | 31326 g |
| 70 pounds | 31780 g |
| 71 pounds | 32234 g |
| 72 pounds | 32688 g |
| 73 pounds | 33142 g |
| 74 pounds | 33596 g |
| 75 pounds | 34050 g |
| 76 pounds | 34504 g |
| 77 pounds | 34958 g |
| 78 pounds | 35412 g |
| 79 pounds | 35866 g |
| 80 pounds | 36320 g |
| 81 pounds | 36774 g |
| 82 pounds | 37228 g |
| 83 pounds | 37682 g |
| 84 pounds | 38136 g |
| 85 pounds | 38590 g |
| 86 pounds | 39044 g |
| 87 pounds | 39498 g |
| 88 pounds | 39952 g |
| 89 pounds | 40406 g |
| 90 pounds | 40860 g |
| 91 pounds | 41314 g |
| 92 pounds | 41768 g |
| 93 pounds | 42222 g |
| 94 pounds | 42676 g |
| 95 pounds | 43130 g |
| 96 pounds | 43584 g |
| 97 pounds | 44038 g |
| 98 pounds | 44492 g |
| 99 pounds | 44946 g |
| 100 pounds | 45400 g |
1 pounds to grams

2 pounds to grams

3 pounds to grams

4 pounds to grams

5 pounds to grams

10 pounds to grams

20 pounds to grams

50 pounds to grams

100 pounds to grams

250 pounds to grams

500 pounds to grams

700 pounds to grams

1000 pounds to grams

2500 pounds to grams

5000 pounds to grams