How Old Am I
MyCalcu is the best age calculator to answer you about How Old Am I?
How Old Am I? (Age Calculator)
Why use How Old am I? Age Calculator
Using Mycalcu's how old I am calculator you will be able to calculate your age till today exactly and any other person quickly and accurately. This age calculator calculates your or another person's age and provides the details in years, months, and days based on the date of birth provided.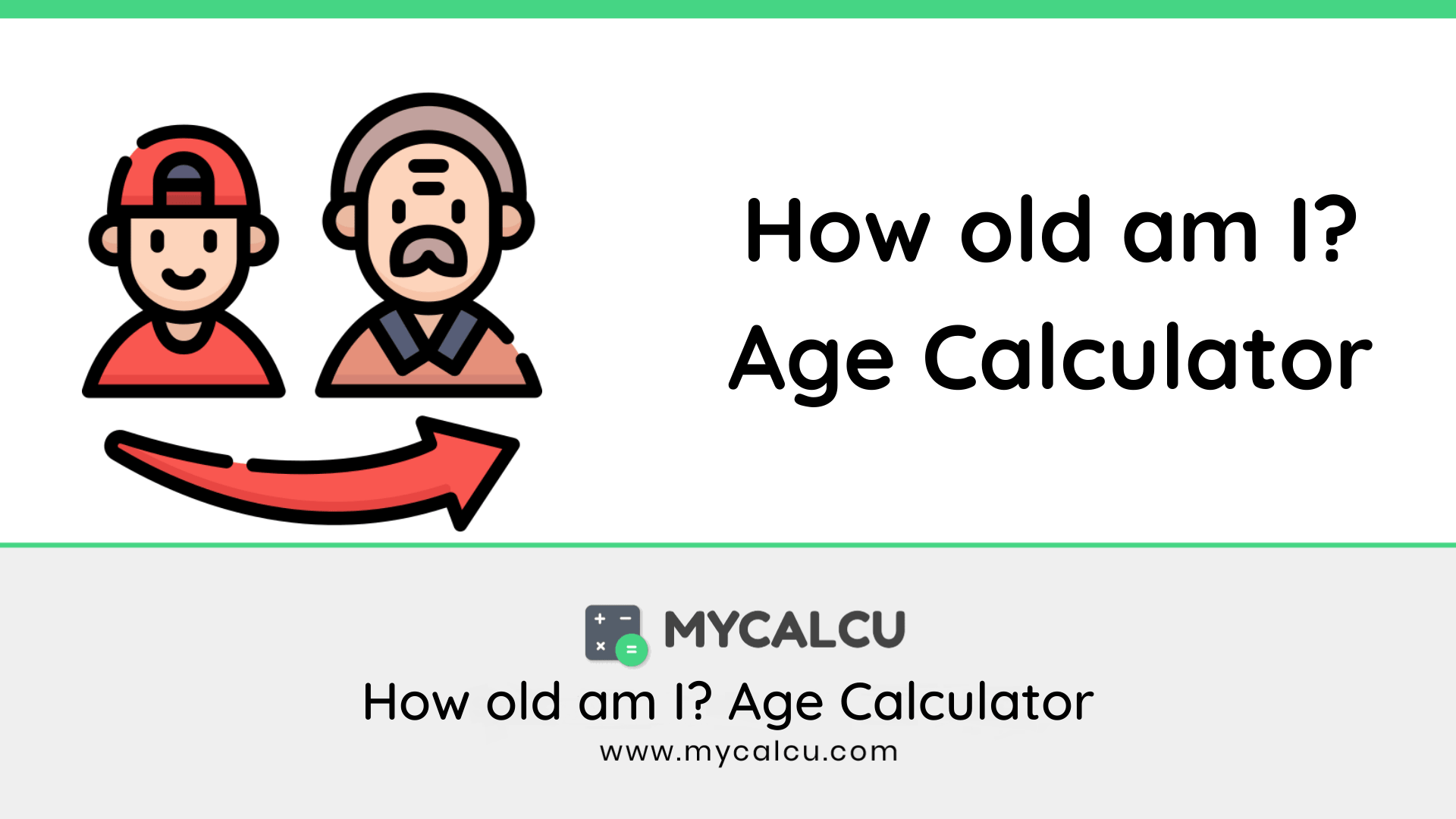 Furthermore, this calculator provides the answer to many frequently asked questions like how many years old am I today? how old you are in weeks? how old I will be in years? how many days old right now am I? among others.
How does it work?
How old exactly am I? to find the answer first, select the date format and then enter your or any other person's date of birth to get quick and accurate age calculations.
How to use how old am I calculator?
Simply enter your date of birth and then click calculate to compute your age to this day.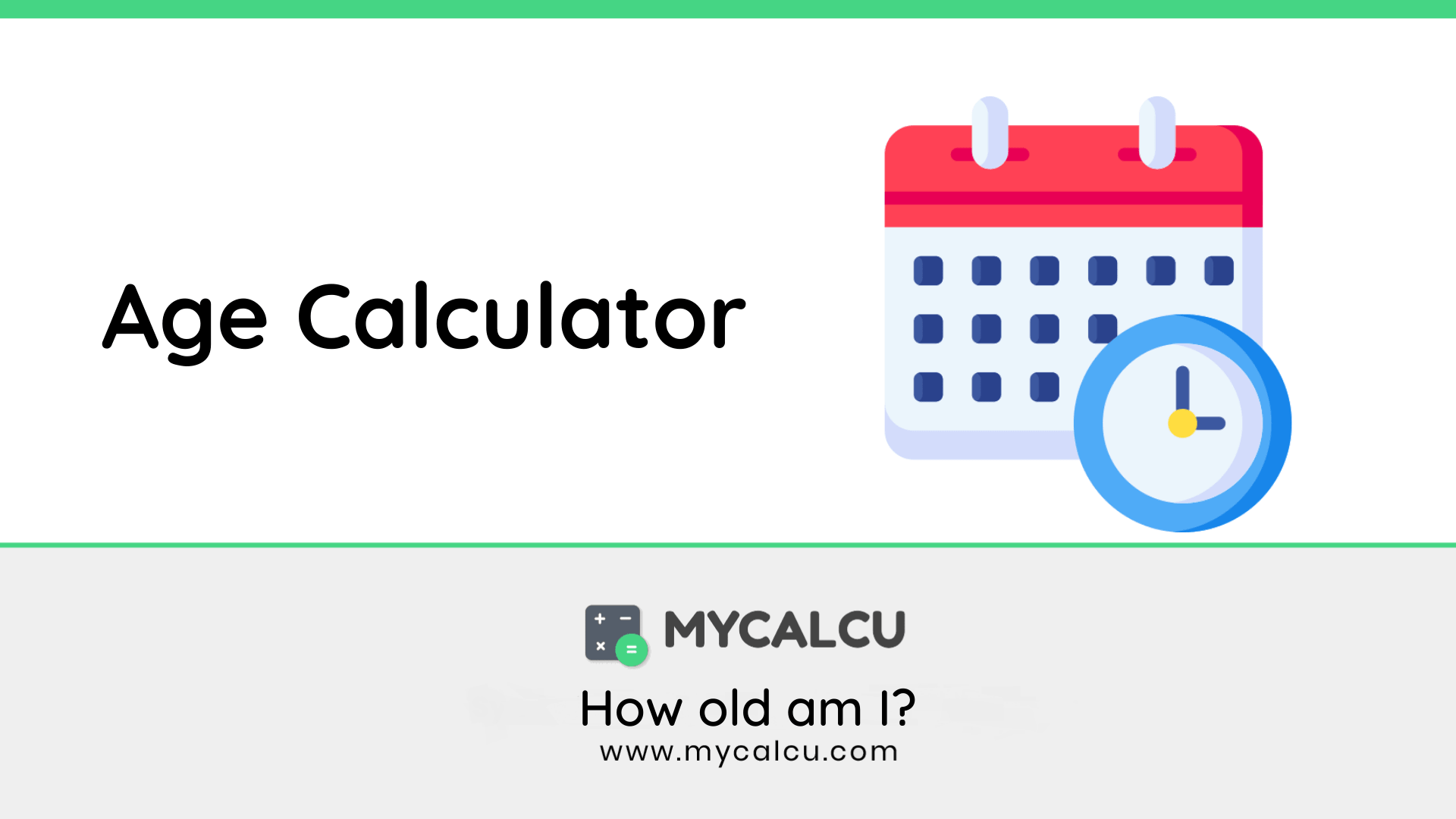 | Birth-year | Age |
| --- | --- |
| 1920 Birth-year | 101 Age |
| 1921 Birth-year | 100 Age |
| 1922 Birth-year | 99 Age |
| 1923 Birth-year | 98 Age |
| 1924 Birth-year | 97 Age |
| 1925 Birth-year | 96 Age |
| 1926 Birth-year | 95 Age |
| 1927 Birth-year | 94 Age |
| 1928 Birth-year | 93 Age |
| 1929 Birth-year | 92 Age |
| 1930 Birth-year | 91 Age |
| 1931 Birth-year | 90 Age |
| 1932 Birth-year | 89 Age |
| 1933 Birth-year | 88 Age |
| 1934 Birth-year | 87 Age |
| 1935 Birth-year | 86 Age |
| 1936 Birth-year | 85 Age |
| 1937 Birth-year | 84 Age |
| 1938 Birth-year | 83 Age |
| 1939 Birth-year | 82 Age |
| 1940 Birth-year | 81 Age |
| 1941 Birth-year | 80 Age |
| 1942 Birth-year | 79 Age |
| 1943 Birth-year | 78 Age |
| 1944 Birth-year | 77 Age |
| 1945 Birth-year | 76 Age |
| 1946 Birth-year | 75 Age |
| 1947 Birth-year | 74 Age |
| 1948 Birth-year | 73 Age |
| 1949 Birth-year | 72 Age |
| 1950 Birth-year | 71 Age |
| 1951 Birth-year | 70 Age |
| 1952 Birth-year | 69 Age |
| 1953 Birth-year | 68 Age |
| 1954 Birth-year | 67 Age |
| 1955 Birth-year | 66 Age |
| 1956 Birth-year | 65 Age |
| 1957 Birth-year | 64 Age |
| 1958 Birth-year | 63 Age |
| 1959 Birth-year | 62 Age |
| 1960 Birth-year | 61 Age |
| 1961 Birth-year | 60 Age |
| 1962 Birth-year | 59 Age |
| 1963 Birth-year | 58 Age |
| 1964 Birth-year | 57 Age |
| 1965 Birth-year | 56 Age |
| 1966 Birth-year | 55 Age |
| 1967 Birth-year | 54 Age |
| 1968 Birth-year | 53 Age |
| 1969 Birth-year | 52 Age |
| 1970 Birth-year | 51 Age |
| 1971 Birth-year | 50 Age |
| 1972 Birth-year | 49 Age |
| 1973 Birth-year | 48 Age |
| 1974 Birth-year | 47 Age |
| 1975 Birth-year | 46 Age |
| 1976 Birth-year | 45 Age |
| 1977 Birth-year | 44 Age |
| 1978 Birth-year | 43 Age |
| 1979 Birth-year | 42 Age |
| 1980 Birth-year | 41 Age |
| 1981 Birth-year | 40 Age |
| 1982 Birth-year | 39 Age |
| 1983 Birth-year | 38 Age |
| 1984 Birth-year | 37 Age |
| 1985 Birth-year | 36 Age |
| 1986 Birth-year | 35 Age |
| 1987 Birth-year | 34 Age |
| 1988 Birth-year | 33 Age |
| 1989 Birth-year | 32 Age |
| 1990 Birth-year | 31 Age |
| 1991 Birth-year | 30 Age |
| 1992 Birth-year | 29 Age |
| 1993 Birth-year | 28 Age |
| 1994 Birth-year | 27 Age |
| 1995 Birth-year | 26 Age |
| 1996 Birth-year | 25 Age |
| 1997 Birth-year | 24 Age |
| 1998 Birth-year | 23 Age |
| 1999 Birth-year | 22 Age |
| 2000 Birth-year | 21 Age |
| 2001 Birth-year | 20 Age |
| 2002 Birth-year | 19 Age |
| 2003 Birth-year | 18 Age |
| 2004 Birth-year | 17 Age |
| 2005 Birth-year | 16 Age |
| 2006 Birth-year | 15 Age |
| 2007 Birth-year | 14 Age |
| 2008 Birth-year | 13 Age |
| 2009 Birth-year | 12 Age |
| 2010 Birth-year | 11 Age |
| 2011 Birth-year | 10 Age |
| 2012 Birth-year | 9 Age |
| 2013 Birth-year | 8 Age |
| 2014 Birth-year | 7 Age |
| 2015 Birth-year | 6 Age |
| 2016 Birth-year | 5 Age |
| 2017 Birth-year | 4 Age |
| 2018 Birth-year | 3 Age |
| 2019 Birth-year | 2 Age |
How Old Am I If I Was Born In 1900
How Old Am I If I Was Born In 1905
How Old Am I If I Was Born In 1910
How Old Am I If I Was Born In 1911
How Old Am I If I Was Born In 1914
How Old Am I If I Was Born In 1920
How Old Am I If I Was Born In 1925
How Old Am I If I Was Born In 1926
How Old Am I If I Was Born In 1931
How Old Am I If I Was Born In 1933
How Old Am I If I Was Born In 1937
How Old Am I If I Was Born In 1909
How Old Am I If I Was Born In 1943
How Old Am I If I Was Born In 1947
How Old Am I If I Was Born In 1980
How Old Am I If I Was Born In 1990
How Old Am I If I Was Born In 1996
How Old Am I If I Was Born In 2000
How Old Am I If I Was Born In 2001
How Old Am I If I Was Born In 2006
How Old Am I If I Was Born In 2007
How Old Am I If I Was Born In 2010
How Old Am I If I Was Born In 2017
How Old Am I If I Was Born In 2020